Honda SUV Comparison: Which is Right for You?
Which Honda SUV Will You Choose?
Honda HR-V, Honda CR-V, Honda Passport or Honda Pilot
Compare Style, Performance, Technology & Design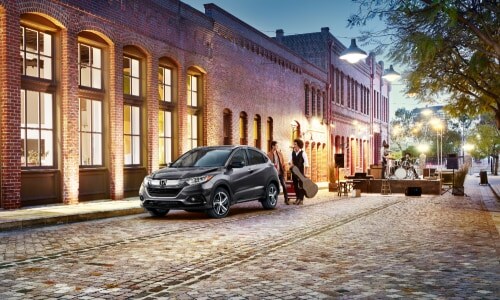 2021 Honda HR-V
The smallest crossover in our lineup, the new 2021 Honda HR-V may as well be a lifted hatchback. Efficient and sensible for everyday travels, with the kind of versatile and easily adjustable cabin that helps out a solo driver or small family get going in a snap, the new 2021 Honda HR-V is a great choice for the daily Baltimore area commuter who also likes to take off outside of the city for fun weekend adventures. Generously equipped with the latest Honda tech, this small crossover will keep you and your passengers safe, entertained and connected for all your travels, whether you're navigating the busy city streets of Baltimore or taking off out into nature.


Smart Cabin Design: While you're not packing the new 2021 Honda HR-V full of tons of passengers or even a lot of stuff, this is a cleverly built small SUV that is surprisingly spacious inside. All passengers you bring with you will have enough space to stretch out, while there's ample room for cargo that can be expanded even further thanks to the Magic Seats in back that are easily adjustable to fold down, recline and more.


High Visibility From the Driver's Seat: An often-overlooked quality of any vehicle is its visibility, or how easy is it to see the road and your surroundings from behind the wheel. Thanks to smart designs with its front pillars and windows, the new 2021 Honda HR-V makes it easy to view the road ahead, all your blind-spots and alongside you while on the go.


Tech Keeps You Safe and Connected: The latest Honda tech features are abundantly available with this small crossover. While its base LX trim is sparsely equipped - perfect for drivers who prefer few bells and whistles - every other edition is packed full of easy to use infotainment features with a touchscreen, smartphone integration and more. Meanwhile the Honda Sensing safety features in the higher trims bundle adaptive cruise control, forward collision warning and more.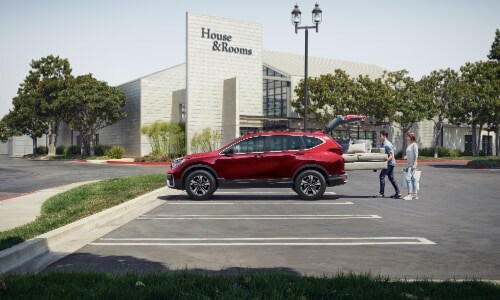 2021 Honda CR-V
When considering a small SUV, the new 2021 Honda CR-V should be at the top of your list. This is simply one of the best all-around vehicles available anywhere in the Baltimore area, whether you commute daily, run errands around town or regularly take off on longer road trips with your family in tow. There's a lot of praise that the new 2021 Honda CR-V rightfully earns, but the best you'll do is by coming over to Safford Brown Honda Glen Burnie for a test drive. Here are a few highlights of one of our most popular vehicles:


Smooth and Capable Turbocharged Acceleration: The small SUV segment is hugely popular and for great reasons, but all too often if there's criticism, it's with a lackluster powertrain. The new 2021 Honda CR-V defies those expectations, using a turbocharged 1.5-liter four-cylinder that delivers 190 horsepower of smooth performance levels. Along with a smart transmission system and available AWD, you'll have no trouble taking off in the capable yet thrifty new 2021 Honda CR-V.


Impressive Cabin Space: Even while listed as a "small" SUV, the new 2021 Honda CR-V is impressively spacious inside. Any sized passengers will remain comfortable in the back, where the rear seats create more room for cargo when you need that instead of loading up with five people. Thanks to the smart design, you'll be able to squeeze any kind of cargo configuration inside.


Smooth and Quiet Driving Experience: Many SUVs are loud and bulky while they're on the go, while the new 2021 Honda CR-V remains smooth and quiet. If you're spending a lot of time in your daily vehicle, you want to make sure it keeps the road noise quiet and doesn't provide clunky or bumpy driving, and the new 2021 Honda CR-V will be a great choice in that regard.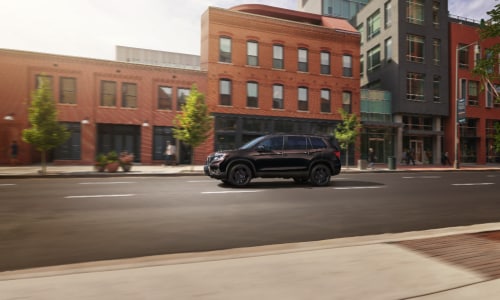 2021 Honda Passport
There are a lot of similarities between the new 2021 Honda Passport and our lineup's three-row SUV. The new 2021 Honda Passport sticks with seating for five, which then opens up more of the cabin for all kinds of cargo and extra stuff you're bringing along with you. This is a great SUV option for Baltimore area and Maryland drivers who like to head out into nature regularly and load up with camping and adventuring gear.


Extra Room for Passengers: Though the 2021 Honda Passport limits your seating to five, it's within its spacious cabin that your passengers can really spread out and enjoy high-end levels of comfort. This is a great quality to have for longer road trips, while the rear seats can also be easily adjusted to create more space for cargo.


High-End Off-Roading: While equipped for all kinds of advnetures with a smartly designed cabin and the right kind of features, the new 2021 Honda Passport also includes an available AWD system that gives you better traction and control regardless of the terrain you're driving on.


Strong V-6 Performance Levels: Using a 3.5-liter V-6 that produces 280 horsepower and 262 pound-feet of torque, the new 2021 Honda Passport can easily get you, your passengers and all your stuff going. When properly equipped, you can tow up to 5,000 pounds, which further expands the versatility of this adventure-driven SUV.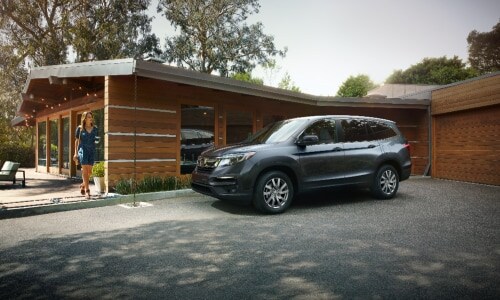 2021 Honda Pilot
As our lineup's three-row SUV, the new 2021 Honda Pilot is perfect for the family on the go. Many three-row SUVs are only named as such for technical terms, but you'll find plenty with the far-rear seats that can barely accommodate children, let alone adult passengers, but this Honda SUV makes enough space throughout its cabin. There are high-end capabilities and plenty of features as well.


Versatile and Roomy Interior: As mentioned, all three rows of seating in the new 2021 Honda Pilot will be spacious enough for any sized passenger to be comfortable in. Furthermore, the second- and third-row seats can be quickly adjusted to create more space for cargo when needed. There are configurations for seating up to eight passengers, or you can open up things in the middle with second-row captain's chairs, reducing your capacity to seven.


Loaded Up on Safety Technology: Tons of standard safety features keep you and your passengers out of harm's way. The new 2021 Honda Pilot includes adaptive cruise control, forward collision warning, lane keeping system and more.


Strong Capabilities: In order to get this large SUV going, the new 2021 Honda Pilot utilizes a smartly designed 3.5-liter V-6, which produces a smooth 280 horsepower with 262 pound-feet of torque. Additionally, an optional AWD system gives you a greater range of capabilities, as does the proper setup that allows for towing of up to 5,000 pounds.